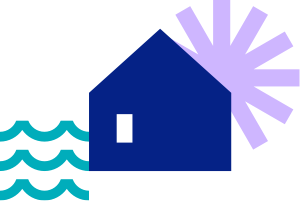 Home buying success starts with making a strong offer
Figuring out how to make an offer on a house that'll turn you into a homeowner is no small task. Luckily, there are plenty of ways to make your offer as strong as possible. From down payments to contingencies, escrow accounts to counter offers, here's a guide to understanding the process, enlisting expert help, and determining how to make an offer on a house you could someday call home.
How to make an offer on a house
1. Learn how the home offer process works.
Before you get your offer ready (more on that below), you'll want to know what to expect. Here's how the basic home offer process typically goes:
Your agent sends your offer to the seller.
The seller could:
Accept the offer.
Decline the offer. This happens if the seller doesn't think your offer was close enough to their expectations to negotiate.
Counter-offer. The seller offers you different terms.
If the seller counter-offers, you can then accept, counter, or decline as well. You can negotiate back and forth as many times as you'd like until you reach an agreement or someone decides to walk away.
Once your offer is accepted (or you accept a counter-offer), you sign the purchase agreement. You're now under contract. This period of time is called the contingency period, and any inspections, appraisals, or anything else built into your purchase agreement will take place.
2. Pick a starting price (with your agent's help).
A lot goes into the number you start with when making an offer on a house: your budget, the local market, the seller's situation, the condition of the house, and more. This is when you'll thank yourself for finding a good real estate agent. Knowing your needs, the local market, and the right strategy for each property is your agent's job. Feel free to ask lots of questions and do your own research, but also trust your agent's expertise.
3. Set your contingencies and other offer details.
Contingencies are things you expect to happen between the signing of the purchase agreement and closing that could change or end your contract. Standard contingencies include home inspections and appraisals. These protect you by allowing you to walk away or renegotiate your offer if the house has hidden issues or isn't worth as much as you thought.
You can also include non-financial things to sweeten the deal. If you know the seller is in a rush to move, you could offer to close quickly. If you know they are house hunting themselves, you could offer to rent the home to them after you close so they can take their time moving out. Your agent can help you get a read on the situation and recommend what items to include.
4. Decide how much money to put in escrow.
Your purchase agreement will include how much money you're putting down as an earnest money deposit. This money shows the seller you're serious about your offer because if you walk away from the deal in any way not allowed by your contract, the seller keeps the money. In a competitive market, offering a bigger earnest money deposit than the competition can help your offer stand out.
Earnest money deposits are often 1 to 3 percent of the purchase price of the house. If your offer is accepted, you'll put your deposit in an escrow account, which is a special bank account where neither you nor the seller can access it until the agreement is over. If all goes well, your deposit will often be deducted from what you owe the seller when closing on the house.
5. Consider including a house offer letter.
In competitive housing markets, sellers often get multiple offers. One way to make yours stand out is with a house offer letter. If you know the seller has an emotional attachment to the home and you think they'd appreciate knowing how much you love their home, go ahead and tell them in a letter that will be delivered with your offer.
6. Send your offer.
When you're ready, have your agent deliver the offer to the seller or the seller's real estate agent. Now, it's up to them to respond. And while you wait, congratulate yourself. No matter how things go from here, you've taken a big step toward homeownership by learning how to make an offer on a house.
Want to make that offer even stronger? Here's how to write a house offer letter that could win a seller's heart.
https://www.trulia.com/guides/how-to-make-an-offer-on-a-house